FlexGun™ UL
The FlexGun™ UL is an ultra-lightweight weld gun that is part of CenterLine's FlexGun family of gun packages. With over 300 available models in X, C and Pinch configurations, and a vast majority of models with total gun mass under 70kg, the FlexGun UL is ideal for use on robot models with payloads starting at 80kg and for applications requiring between 2.5 to 8.3 kN of weld force.

With integrated robot mounting, superior strength to weight ratio construction, and ultra-compact size, the FlexGun UL is the right choice for high-density production needs.




Key Features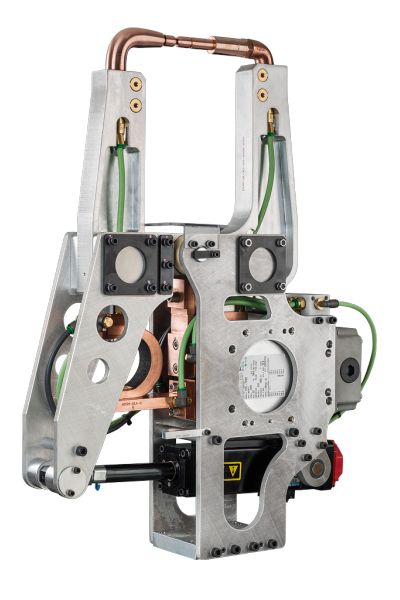 Optimum lightweight design - integrated robot mounting eliminates the need for additional bracket; streamlined profile for better access in tight areas.
Superior strength to weight ratio - greater capability from a physically lighter gun.
True symmetrical design - no RH or LH version or need to add components such as brackets and arms to adapt to changes in mounting conditions.
Single actuator style is interchangeable across all FlexGun UL models, reduces inventory needs.
Standard CAD gun library - Extensive component interchangeability reduces spare parts inventory needs, accommodates potential future changes in gun configurations and enables designers to design a complete project using existing models.
Designed to withstand 4G acceleration forces - able to accelerate and decelerate for rapid spot to spot speed to accommodate high volume production needs.
No less than 20% duty cycle - a significant improvement over comparatively sized packages, allows for more welds per minute.
Ideal for high-density manufacturing needs - able to mount on smaller robots (less floor space, less capital costs), reduced weight allows for faster spot-to-spot movement, higher duty cycle for better production rate.
Robust construction for extended gun life and lower operating costs.
NOTE: The FlexGun UL gun is not designed to accommodate the mounting of additional components (i.e. grippers, tooling, etc.) to its frame. Applications requiring the use of additional process components on robots fitted with a FlexGun UL welding gun must be attached directly to the robot mounting flange.
Gun Style
Throat Depth in (mm)
Max Force Range lbf (N)
Gun Mass 85 kVA lbs (kg)
Gun Mass 100 kVA lbs (kg)
Transformer
kVA (MFDC)
X-Gun
11.8-23.6
(300-600)
1873
(8330)
126-138
(57-62.5)
140-152
(63.5-69)


DC 85 & 100
kVA
C-Gun

2-16
(50-405)
1575
(7000)
123-131
(56-59.5)
138-145.5
(62.5-66)
Pinch

11.8-23.6
(300-600)
1722
(7660)
128-140
(58-63.5)
142-154
(64.5-70)
Contact us for more details or to discuss your next application.
---